March 2nd, 2021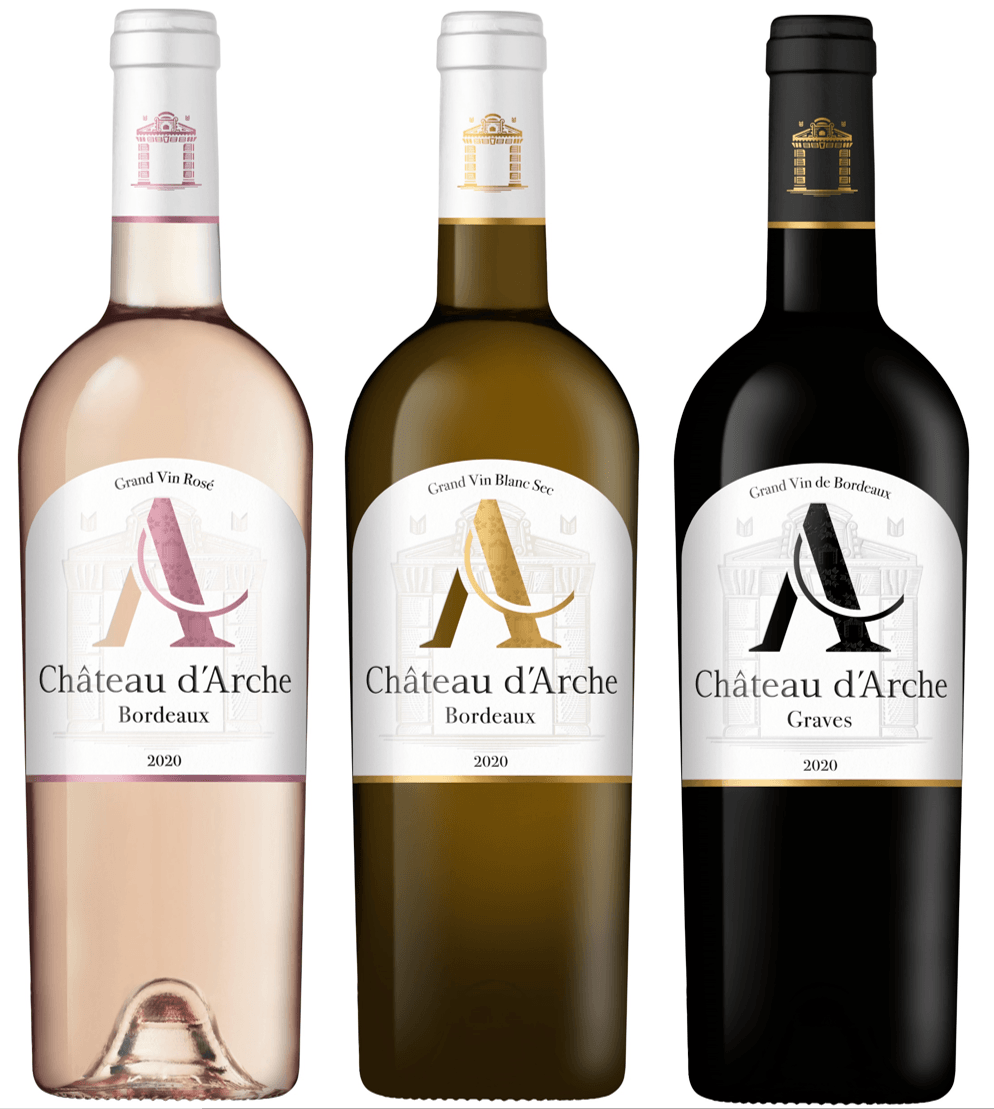 Château d'Arche creates three new wines :
a rosé, a dry white, and a red wine.
Château d'Arche, Grand Cru Classé de Sauternes 1855, and its team carried out this bold project to diversify their offer.
Château d'Arche Grand Cru Classé 1855 presents its new product range, a triad of wines made for epicureans and gourmets.
This new brand named « A du Château d'Arche » consists of a Bordeaux rosé, a Bordeaux dry white and a Graves red wine.

This brand new creation comes from the idea of two great Sauternes wine lovers and from a rigorous elaboration, combined with a carefully controlled "élevage" in Sauternes barrels at Château d'Arche for the rosé wine and the dry white wine – which makes all the difference.
"We wish to offer something different to the industry: quality wines that the clients will have pleasure to drink often, so that the brand lives on throughout this new product range." Didier Galhaud, Deputy CEO of Château d'Arche, explains.
Our Bordeaux rosé wine consists of a 50 % Merlot and 50 % Cabernets blend. Its outstanding terroir (gravelly and calcareous) is combined, for 10 % of the production, with a four-month "élevage" in Château d'Arche barrels. This creates a particularly fresh and complex wine, rendered round and fat by this unique "élevage". The 2020 vintage offers a profusion of interesting aromas (peony, blackcurrant, blueberry).
Product launch: Spring 2021
Our Bordeaux dry white wine is a 85 % Sémillon and 15 % Sauvignon blend. Its aromatic identity comes from a harvest launched at the first signs of Botrytis, which indicates a flavor precursor optimum (laboratory-tested). This technique produces a dry white wine with subtle hints that remind of great Sauternes wines. After 6 months of "élevage" on thin lees with 60 % of it in Sauternes wine barrels, this unique "élevage" produces a dry white wine exceptionally balanced and racy.
Product launch: Spring 2021
Our Graves red wine, a 95 % Merlot and 5 % Cabernet Sauvignon blend, is produced on a fresh terroir with a gravelly and calcareous soil, which enables it to reach the right ripeness to produce crisp and fresh great Merlots. Being the only red wine produced by Château d'Arche, it is treasured and benefits from a nine-month élevage in barrels.
The delicate blending and élevage produce a complex and intense aromatic experience with hints of berries (raspberry, currant) and peony. The palate is balanced, long and gourmet with silky tannins.
Product launch : Autumn 2021
Key figures :
– 70,000 dry white wine bottles
– 20,000 red wine bottles
– 6,000 rosé wine bottles
Didier Galhaud, Deputy CEO, and Matthieu Arroyo, technical director, both recently joined Château d'Arche team. Combined with their team's skills, their expertise and knowledge help producing the best wines while being mindful of the environment, their terroir and vintage.
Their goal is to promote the appellation they are defending: Sauternes.