Archanges Bordeaux Blanc 2018
Bordeaux
Dry white wine
Freshness and elegance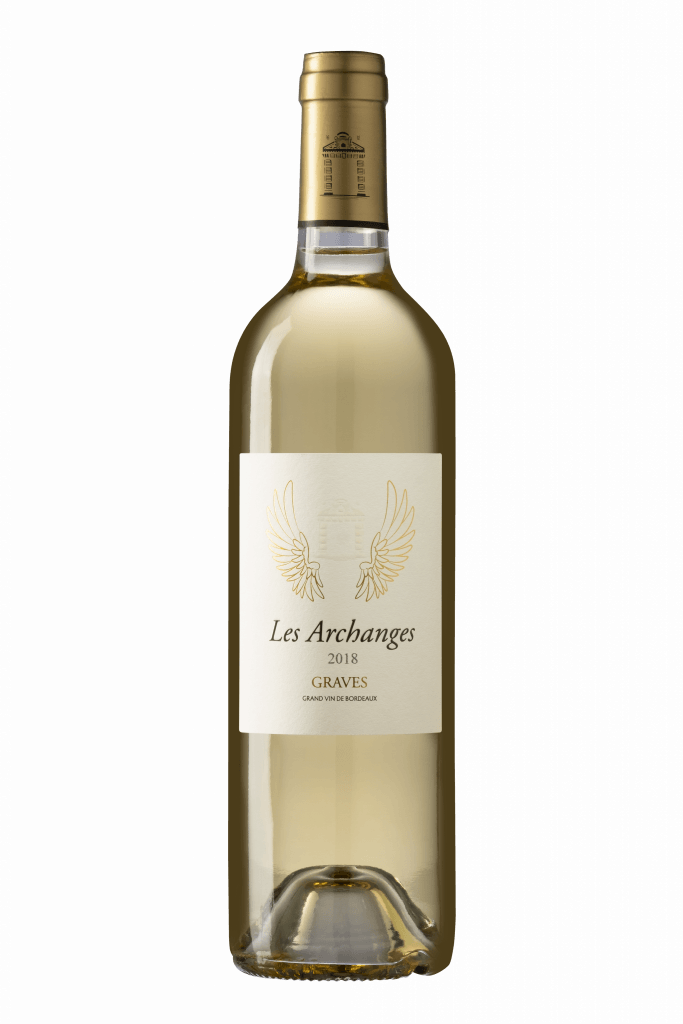 "Les Archanges" is a dry white wine from Bordeaux produced by Château d'Arche, Grand cru classé de Sauternes in 1855.
Harvest from 26 September to 31 October 2018
Fresh on the nose with fresh lemon aromas, a lighter touch of crisp apple and a hint of white blossom.  Fruity and well-balanced on the palate with a good structure of acidity. On the palate, this wine offers up fresh lemon and grapefruit notes combined with delicate touches of white nectarine.
About the Vineyard
Type of soil

80% Graves, 20% Argilo-calcaire

Production area

50 hectares

Average age of the vineyard

45 Years old

Planting density

1,5m x 1m (6600 vine plants by ha)

Harvest

by hand with 3 to 5 successive passes

Certification

HVE3 (High Environmental Value) / ISO14001
The vintage
Blend

Sémillon 70% Sauvignon 30%

Alcohol (in % vol.)

13%

Yield

40 hl/ha

Wine making process

In temperature-controlled vats

Ageing

6 months in oak barrels
Bordeaux Rosé
"A" Château d'Arche Rosé
"A" of Château d'Arche is a Bordeaux appellation rosé wine produced by Château d'Arche, Grand cru classé de Sauternes in 1855. It is made from the direct pressing of 50% Merlot and 50% Cabernet Sauvignon planted on a small, late-slope terroir of Graves, on a silty-gravelly soil with astery-limestone at the top. Fermented in stainless steel vats and then partially matured in Sauternes barrels at Château d'Arche, this dry, fresh and tangy rosé has unique aromatic characteristics.
A fresh and slightly oaky rosé
AOC Sauternes
Château d'Arche
Grand cru classé en 1855
Recognized for its exceptional elegance and equality by the most famous wine critics in the world, the great wine of Château d´Arche is like its terroir : rare, timeless and vibrant.
Unique, timeless and rare
AOC Sauternes
Arche Lafaurie
Micro cuvée exceptionnelle
Château Arche Lafaurie is a very great wine produced from the best grapes from exceptional plots. Made from botrytised grape berries with a unique concentration and a drastic selection.

The signature of a great terroir
AOC Sauternes
Prieuré d'Arche
Second vin
Good Balance, beautiful acidity and freshness, our second wine is made with the passion as our Grand Cru Classé.
Tradition, elegance, modernity
Sauternes
Château Padouen
Organic and very limited production, this tiny Chateau of less than 10 hectares in one piece is located in the commune of Barsac, surrounded by the most prestigious Crus Classés of the appellation.
Tradition and modernity
AOC Sauternes
Soleil d'Arche
Second vin
Second wine of Château d'Arche. This wine makes the difference with its resolutely moderne Bottle.
The signature
AOC Sauternes
Perle d'arche
Second Vin
This fresh and acid wine is characterized by its lightness, liveliness and floral and fruity aromas. The second wine of Château d'Arche, with undeniable and immediate charm, demonstrated all the pleasure and elegance of the great wine.
Elegance of a great wine
Bordeaux Dry white wine
"A" de Château d'Arche Blanc
"A" of Château d'Arche is a Bordeaux appellation dry wine produced by Château d'Arche, Grand cru classé de Sauternes in 1855. Blended from 85% Semillon, the emblematic grape variety of Sauternes, and 15% Sauvignon, hand-picked, this wine reflects all the typicity of its terroir. Harvested on the verge of botrytisation, these grapes offer an exceptional aromatic base that is not unlike the notes of our great Sauternes. Its maturing on fine lees half in vats and half in barrels, 20% of which are new and 30% in Sauternes wine barrels, will only reinforce its identity and aromatic power.
A typical dry white Sauternes
Graves
Archanges Graves Rouge
Graves Rouge
This elegant and silky wine, aged in barrels, expresses on the palate blackcurrant and cherry aromas typical of Merlot.
Gourmand and silky
Méthode traditionnelle
Arche Perlée
Brut Blanc de Blancs
Created by the Château d'Arche team in 2020. This wine is the tasty meeting of a traditional method and a dosage liqueur based on Sauternes from Château d'Arche which gives this wine a unique and delicate signature.
Delicate Sparkling wine