Château Padouën 2018
Sauternes
Tradition and modernity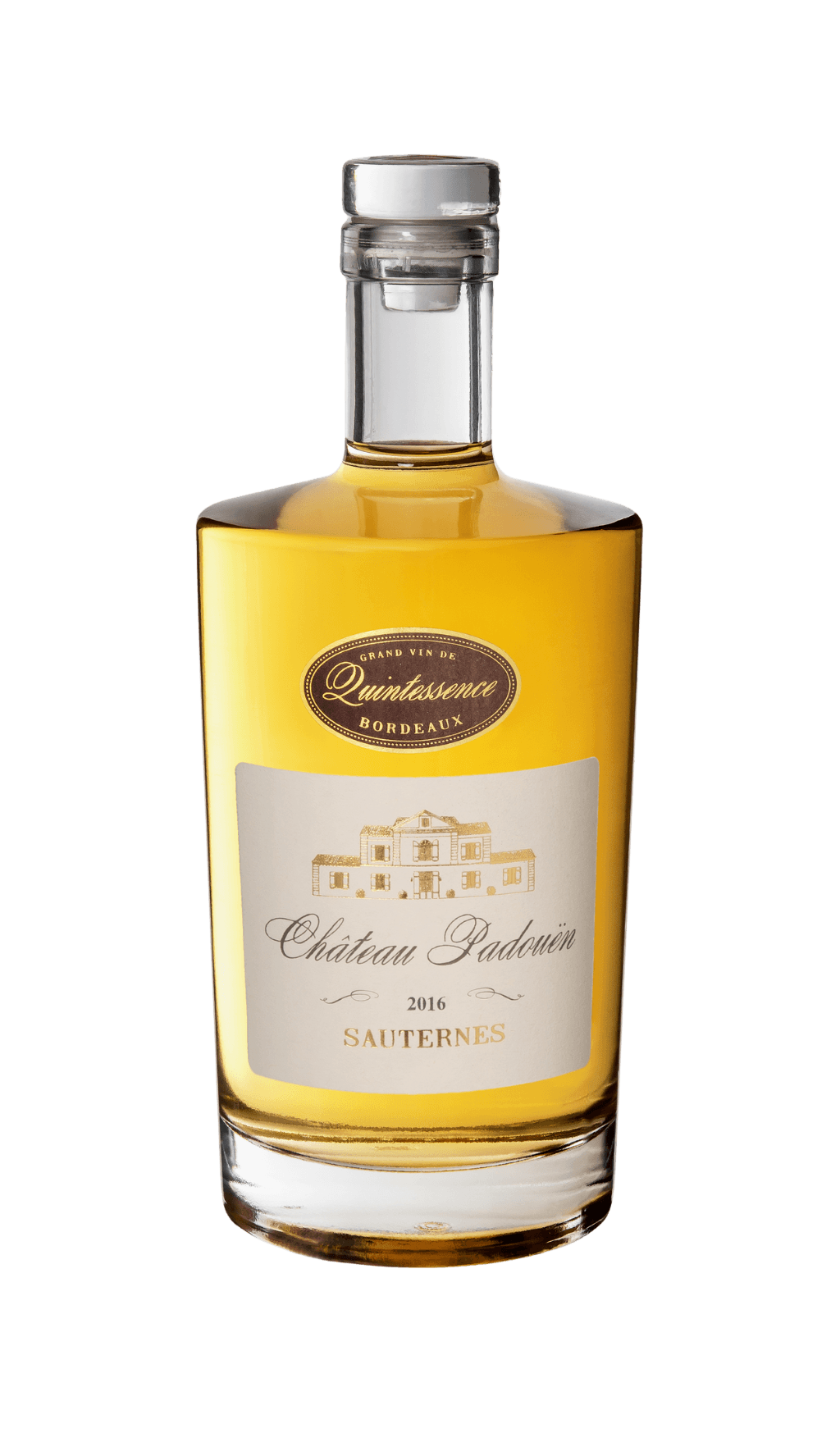 This 2018 vintage has a brilliant golden colour and a charming nose of candied fruit, apricot and white peach. On the palate, the delicate and slightly syrupy attack progresses on a well-balanced mid-palate and a very persistent finish on the fruit.
All in all, this is a very fine liqueur with a very high ageing potential, whose complexity remains very affordable in its youth.
Harvest from september 25th to october 31st 2018
The spring of 2018 was marked by complicated weather conditions that prevented large production quantities, but did not have any impact on quality. Botrytis cinerea (also known as 'noble rot') was delayed but finally arrived in the last week of September. The appellation was affected by hailstorms, but Château d'Arche came through unscathed. 2018 offers a particularly rich, fresh wine.
About the Vineyard
Type of soil

80% Graves, 20% Argilo-calcaire

Production area

9 hectares

Average age of the vineyard

45 Years old

Planting density

1,5m x 1m (6600 vine plants by ha)

Harvest

by hand with 3 to 5 successive passes

Certification

Organic from 2021
The vintage
Blend

Sémillon 80% Sauvignon 19% Muscadelle 1%

Alcohol (in % vol)

13,5% vol

Yield

18 hl/ha

Wine making process

In temperature-controlled vats

Ageing

6 month in oak barrels
AOC Sauternes
Château d'Arche
Grand cru classé en 1855
Recognized for its exceptional elegance and equality by the most famous wine critics in the world, the great wine of Château d´Arche is like its terroir : rare, timeless and vibrant.
Unique, timeless and rare
AOC Sauternes
Arche Lafaurie
Micro cuvée exceptionnelle
Château Arche Lafaurie is a very great wine produced from the best grapes from exceptional plots. Made from botrytised grape berries with a unique concentration and a drastic selection.

The signature of a great terroir
AOC Sauternes
Prieuré d'Arche
Second vin
Good Balance, beautiful acidity and freshness, our second wine is made with the passion as our Grand Cru Classé.
Tradition, elegance, modernity
AOC Sauternes
Soleil d'Arche
Second vin
Second wine of Château d'Arche. This wine makes the difference with its resolutely moderne Bottle.
The signature
AOC Sauternes
Perle d'arche
Second Vin
This fresh and acid wine is characterized by its lightness, liveliness and floral and fruity aromas. The second wine of Château d'Arche, with undeniable and immediate charm, demonstrated all the pleasure and elegance of the great wine.
Elegance of a great wine
Bordeaux
Archanges Grave Blanc
Dry white wine
Dry white wine worked with the same care as its elder Château d'Arche Grand Cru Classé, is aged in Sauternes barrels, to produce a dry white wine where the softness of the aromas meets the smoothness of the ageing process.
Freshness and elegance
Graves
Archanges Graves Rouge
Graves Rouge
This elegant and silky wine, aged in barrels, expresses on the palate blackcurrant and cherry aromas typical of Merlot.
Gourmand and silky
Méthode traditionnelle
Arche Perlée
Brut Blanc de Blancs
Created by the Château d'Arche team in 2020. This wine is the tasty meeting of a traditional method and a dosage liqueur based on Sauternes from Château d'Arche which gives this wine a unique and delicate signature.
Delicate Sparkling wine