Arche Perlée
Méthode traditionnelle
Brut Blanc de Blancs
Delicate Sparkling wine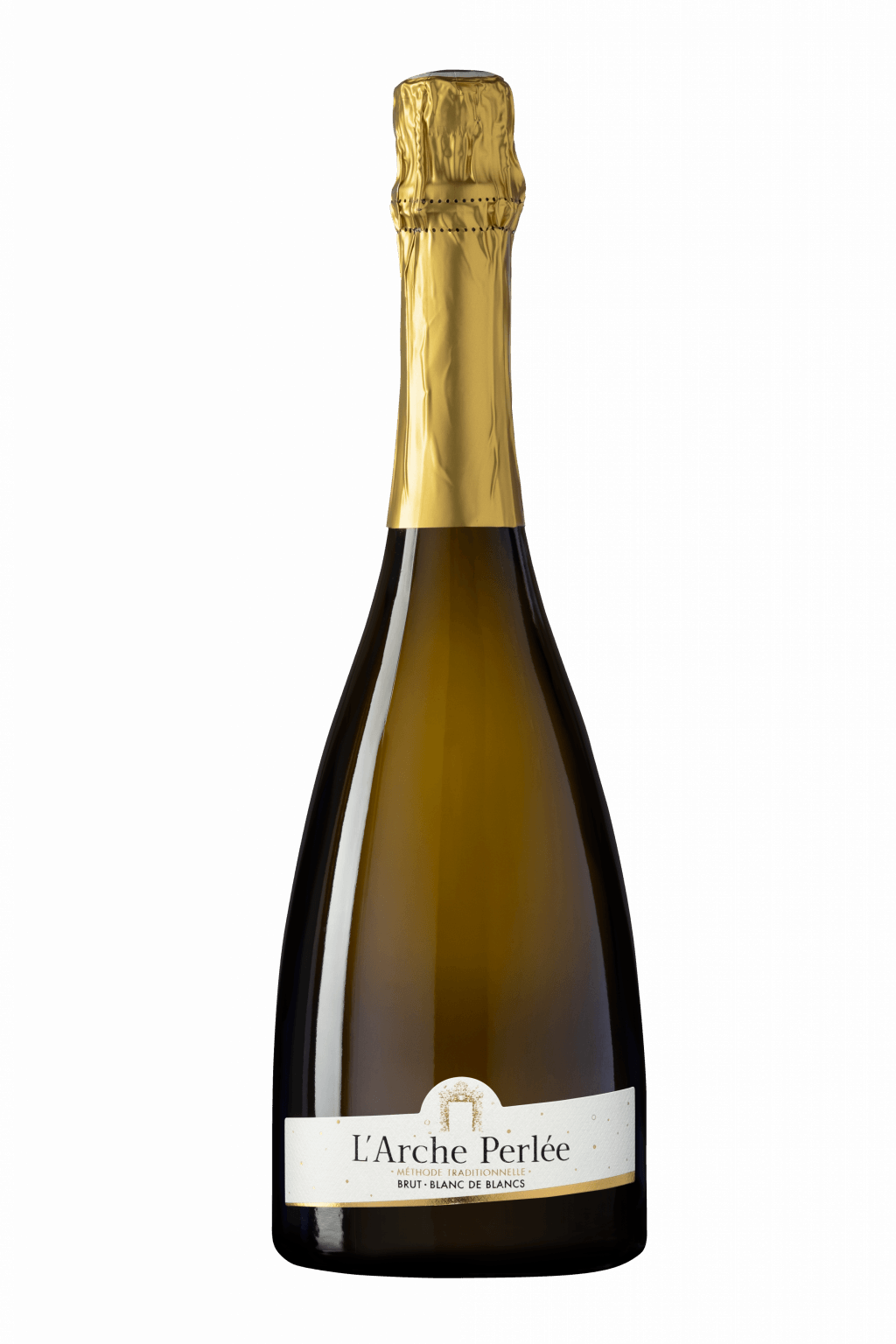 Château d'Arche, Grand Cru Classé de Sauternes, has taken advantage of its exceptional terroir to create a wine with very fine bubbles. Some qualitative vines, planted with Semillon and Sauvignon, have been especially driven to produce this sparkling wine. After the second fermentation in bottles and ageing on lath, we added for its disgorgement a dosage liquor based on Château d'Arche, grand cru classé en 1855.
This Traditional method, unique in the world, developed and invented by the Château d'Arche team since 2020. Our Blanc de Blanc has a beautiful golden color.
On the palate, its very fin bubbles combine delicate white flower notes and candied fruits aromas which are clearly reminiscent of our great Sauternes.
About the Vineyard
Type de sol

80% Graves, 20% Argilo-calcaire

Superficie en production

50 hectares

Age moyen du vignoble

45 Years old

Densité de plantation

1,5m x 1m (6600 vine plants per ha)

Certification

HVE3 (High Environmental Value) / ISO14001
The vintage
Blend

50% sémillon, 50% sauvignon blanc

Alcohol (in % vol.)

12,5%

Dosage liquor

with Château d'Arche's wine, Sauternes' grand cru classé

Wine making process

First fermentation in thermo-regulated tanks then in Sauternes barrels and second fermentation in bottles

Ageing

at least 9 months in bottles
Bordeaux Rosé
"A" Château d'Arche Rosé
"A" of Château d'Arche is a Bordeaux appellation rosé wine produced by Château d'Arche, Grand cru classé de Sauternes in 1855. It is made from the direct pressing of 50% Merlot and 50% Cabernet Sauvignon planted on a small, late-slope terroir of Graves, on a silty-gravelly soil with astery-limestone at the top. Fermented in stainless steel vats and then partially matured in Sauternes barrels at Château d'Arche, this dry, fresh and tangy rosé has unique aromatic characteristics.
A fresh and slightly oaky rosé
AOC Sauternes
Château d'Arche
Grand cru classé en 1855
Recognized for its exceptional elegance and equality by the most famous wine critics in the world, the great wine of Château d´Arche is like its terroir : rare, timeless and vibrant.
Unique, timeless and rare
AOC Sauternes
Arche Lafaurie
Micro cuvée exceptionnelle
Château Arche Lafaurie is a very great wine produced from the best grapes from exceptional plots. Made from botrytised grape berries with a unique concentration and a drastic selection.

The signature of a great terroir
AOC Sauternes
Soleil d'Arche
Second vin
Second wine of Château d'Arche. This wine makes the difference with its resolutely moderne Bottle.
The signature
AOC Sauternes
Perle d'arche
Second Vin
This fresh and acid wine is characterized by its lightness, liveliness and floral and fruity aromas. The second wine of Château d'Arche, with undeniable and immediate charm, demonstrated all the pleasure and elegance of the great wine.
Elegance of a great wine
Bordeaux Dry white wine
"A" de Château d'Arche Blanc
"A" of Château d'Arche is a Bordeaux appellation dry wine produced by Château d'Arche, Grand cru classé de Sauternes in 1855. Blended from 85% Semillon, the emblematic grape variety of Sauternes, and 15% Sauvignon, hand-picked, this wine reflects all the typicity of its terroir. Harvested on the verge of botrytisation, these grapes offer an exceptional aromatic base that is not unlike the notes of our great Sauternes. Its maturing on fine lees half in vats and half in barrels, 20% of which are new and 30% in Sauternes wine barrels, will only reinforce its identity and aromatic power.
A typical dry white Sauternes
Graves
Archanges Graves Rouge
Graves Rouge
This elegant and silky wine, aged in barrels, expresses on the palate blackcurrant and cherry aromas typical of Merlot.
Gourmand and silky